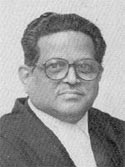 Patron-in-Chief
Hon'ble Mr. Justice S. Rajendra Babu
Ex : Chief Justice of India
Hon'ble Mr. Justice S. Rajendra Babu
---
S.Rajendra Babu, LL.B.—Born on 1st June, 1939. Enrolled as Advocate on 04-01-1969.
He represented Income Tax Department as Additional Standing Counsel.
Also represented the Government of Karnataka as High Court Government Pleader.
Practised in Taxation, Constitutional law and Civil matters.
Appointed permanent Judge of the Karnataka High Court on 19-02-1988.
Appointed as a Judge of Supreme Court of India on 25-09-1997.
Appointed as The Chief Justice of India in the forenoon of 02-05-2004.
Retired on 01-06-2004(F/N).