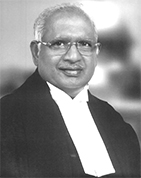 Patron-in-Chief
Hon'ble Mr. Justice K.G.Balakrishnan
Ex : Chief Justice of India
Hon'ble Mr. Justice K.G.Balakrishnan
---
Balakrishanan, Konakuppakatil Gopinathan, B.Sc., LL.M
Born on 12-05-1945.   Enrolled  as  an  Advocate  of  the  Kerala  Bar  Council on 16-03-1968. Practised on both on Civil and Criminal sides at Erinakulam. Appointed as a Munsif in the Kerala Judicial Service on 10-01-1973 and later resigned from service and resumed practice as an Advocatein the Kerala High Court. On 26-09-1985   -   appointed as a judge  of  the  Kerala  High Court.  On 24-11-1997-transferred to Gujarat High Court. On 16-07-1998 became the Chief Justice of the High Court of Gujarat and was transferred to the High Court of Judicature at Madras and assumed charge there as Chief Justice on 09-09-1999. 
On 08-06-2000 elevated as the Judge, Supreme Court.
Appointed as The Chief Justice of India in the forenoon of 14.01.2007.
Retired on 12.5.2010.