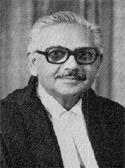 Patron-in-Chief
Hon'ble Mr. Justice J.S. Verma
Ex : Ex Chief Justice of India
Hon'ble Mr. Justice J.S. Verma
---
Jagdish Sharan Verma
Date of birth : 18th January, 1933.
Educational route : Educated at Venkat High School, Satna (Madhya Pradesh); Government Jubilee Inter College, Lucknow; Ewing Christian College, Allahabad and University of Allahabad. Enrolled Pleader in the Vindhya Pradesh Judicial Commissioner's Court, Rewa in January, 1955; Advocate, Madhya Pradesh High Court in August, 1959. Practised in constitutional, civil, criminal, taxation and revenue matters.
 Appointed Additional Judge of the Madhya Pradesh High Court from September 12, 1972, Permanent Judge of that High Court from 2.6.1973. Was Company Judge in the High Court of Madhya Pradesh for several years; was also Chairman of Advisory Boards constituted under the National Security Act and other preventive detention laws; also headed the Administrative Committee of Madhya Pradesh High Court for several years; Appointed Acting Chief Justice of Madhya Pradesh High Court from 27.10.1985 and permanent Chief Justice from 14.6.1986.
Transferred as Chief Justice from Madhya Pradesh High Court to Rajasthan High Court on 1.9.1986. Twice Acting Governor of Rajasthan - from 15.10.1987 to 20.2.1988 and from 3.2.1989 to 20.2.1989. Appointed Judge of the Supreme Court from 3.6.1989. Appointed as Chief Justice of India on 25.3.1997.
Retired on 18.1.1998.