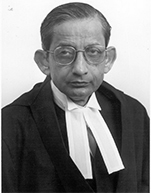 Executive Chairman
Hon'ble Mr. Justice S.B. Sinha
Ex : Judge, Supreme Court of India
Hon'ble Mr. Justice S.B. Sinha
---
Satya Brata Sinha, B.Sc., B.L., - Born on August 8, 1944 at Dhanbad. Passed his Matriculation examination from H.E. School, Dhanbad. Did his B.L from Chota Nagpur Law College in 1967.
Joined the Dhanbad District Court in 1968 after which he shifted his practice to Ranchi after constitution of the Permanent Bench of the Patna High Court in 1976. Designated as Senior Advocate by the Patna High Court.
Appointed as the first Government Advocate of the Ranchi Bench of the Patna High Court. Elevated to the Bench of Patna High Court on March 9, 1987. Transferred to the Calcutta High Court on May 11, 1994. Appointed Acting Chief Justice of the Calcutta High Court in 1999.
Appointed Chief Justice of the Andhra Pradesh High Court on December 11, 2000. Transferred to the Delhi High Court on November 26, 2001.
Appointed Judge of the Supreme Court of India on October 3, 2002.
Retired on August 8, 2009 (F.N.).