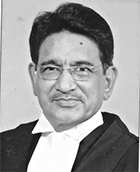 Executive Chairman
Hon'ble Mr. Justice R.M.Lodha
Ex : Judge, Supreme Court of India
Hon'ble Mr. Justice R.M.Lodha
---
Born on September 28,1949 at Jodhpur, Son of Justice S.K. Mal Lodha, former Judge of Rajasthan High Court. Took B.SC. and LL.B Degree from University of Jodhpur and enrolled with Bar Council of Rajasthan on February, 1973. Practiced Law in the Rajasthan High Court and dealt with all branches of law : Constitutional, Civil, Company, Criminal, Taxation, Labour, etc. He was the Central Government Standing Counsel in charge of entire litigation of Union of India at Jaipur Bench during the period 1990 to 1992. He represented Rajasthan High Court in important matters as a Special Counsel. Argued many important cases on behalf of number of Government bodies, Semi-Government bodies, Public authorities like the Rajasthan State Industrial and Investment Development Corporation, Rajasthan Text Book Board, Rajasthan Agricultural Marketing Board, Bharatpur Central Co-operative Bank, Rajasthan State Electricity Board, New India Assurance Company, Oriental Insurance Company, Kendriya Vidyalaya etc. Elevated as a Permanent Judge of Rajasthan High Court on January 31, 1994. Transferred to Bombay High Court where he assumed office on February 16, 1994. 
As a Judge, Bombay High Court for thirteen years, he sat on almost all jurisdictions and for many years presided over Division Benches dealing with Constitutional matters, Tax Laws, Arbitration, Intellectual property, Land Acquisition, Labour, Cooperatives, Public Interest Litigation etc. Also presided over Full Benches involving important questions of law. He has delivered large number of judgments on diverse issues of law which have been reported in various journals. 
He has participated in important conferences, study groups and training programmes meant for Superior Judiciary on intellectual property, gender bias and HIV/AIDS. 
He was involved in the administration of Bombay High Court as (i) Senior Administrative Judge (ii) Chairman, Rules Committee constituted under Section 122 of the Code of Civil Procedure (iii) Chairman, E-Committee for Computerisation in District Courts (iv) Chairman, Monitoring Committee for implementation of decisions taken in the Chief Justices Conference (v) Visitor, Board of Visitors, Judicial Officers Training Institute, Nagpur (vi) Member, Disciplinary Committee, Building Committee, Review Committee of Judicial Officers, Review Committee for reviewing cases of Class I and Class II Gazetted Officers of High Court, Finance Committee and various other administrative committees. 
He was Chairman, Advisory Board constituted under the COFEPOSA Act, 1974 and the M.P.D.A. Act, 1981 in the State of Maharashtra. 
He was re-transferred to Rajasthan High Court where he assumed office on 2nd February, 2007. Has been administrative Judge of Rajasthan High court. 
He was associated with National Law University, Jodhpur as its executive member and has been Chairman, State Judicial Academy, Rajasthan. 
Sworn in as Chief Justice, Patna High Court on 13th May, 2008. 
Elevated as a Judge of Supreme Court of India on 17th December, 2008.
Retired on 27.09.2014 (F.N.)