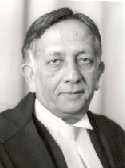 Executive Chairman
Hon'ble Mr. Justice Ashok Bhan
Ex : Judge, Supreme Court of India
Hon'ble Mr. Justice Ashok Bhan
---
Mr. Justice ASHOK BHAN - Born on 02.10.1943. 
Entered Legal Profession in 1965. Worked as part-time Lecturer in Faculty of Law, Punjab University from 1969 to 1979 and Additional Advocate General of Punjab from November, 1979 to March, 1980. Designated Senior Advocate in December, 1982. Worked as Senior Standing Counsel for the Chandigarh Administration from 1983 till his appointment as Judge on 13th June, 1990. Similarly, he was the Senior Counsel for the Department of Income Tax, Government of India from 1963 to 15th June, 1990. Appointed Judge in the Punjab & Haryana High Court on 15.6.1990. Transferred to Karnataka High Court on 7.10.1997. He was Acting Chief Justice from 26th June, 2000 to 20th October, 2000 in the Karnataka High Court. 
Appointed as Judge of the Supreme Court of India on 17.6.2001.
Retired on 02.10.2008 (F.N.)