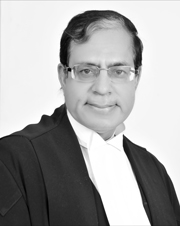 Executive Chairman
Hon'ble Mr. Justice Arjan Kumar Sikri
Ex : Judge, Supreme Court of India
Hon'ble Mr. Justice Arjan Kumar Sikri
---
Born on 7th March, 1954. Had excellent academic record. Stood third in the merit list in Higher Secondary from CBSE, Delhi. Did his B.Com(Hons.) from Shriram College of Commerce, Delhi University in the year 1974 and LL.B from Law Faculty, Delhi University in the year 1977. Awarded Gold Medal for attaining first position in LL.B. Awarded special prize for getting highest marks in Constitutional Law I & II. Had distinction of securing first position in all six semesters of LL.B and getting all possible prizes and medals of Delhi University for LL.B course. Did his LL.M from Delhi University and got first position in three years course. Won medals and prizes in various extra curricular activities. Was president of Campus Law Centre, Delhi University in 1976-77. Was member of Academic Council of Delhi University in the year 1976-77 and various committees of Delhi University. During his schooling from 9th standard onwards till LL.M., he was given scholarships each year. 
Enrolled as an Advocate in July, 1977 with Bar Council of Delhi and started practicing in Delhi. Conducted cases of all types with specialization in Constitutional cases, Labour – Service Matters and Arbitration Matters. Was counsel for numerous Public Sector Undertakings, Educational Institutions, Banks & Financial Institutions and various Private Sector Corporations. Was also part-time lecturer in Campus Law Centre, Delhi University (1984-89). Was Vice-President, Delhi High Court Bar Association during 1994-95. Was member of the Governing Body of various colleges from time to time. Designated as Senior Advocate by Delhi High Court on 30th September, 1997. 
Appointed as Judge of High Court of Delhi w.e.f. 7th July, 1999. As a Judge, dealt with all kinds of jurisdictions and given many landmark judgments. Has attended/ chaired various national and international seminars and workshops and presented number of papers therein. Many articles are published in various magazines. 
Was chosen as one of the 50 most influential persons in Intellectual Property in the world in the survey conducted by Managing Intellectual Property Association (MIPA) for the year 2007. 
Became the Acting Chief Justice of Delhi High Court w.e.f. 10th October, 2011 and was elevated as the Chief Justice of Punjab and Haryana High Court w.e.f. 23.9.2012.
Elevated to the Supreme Court of India on 12th April, 2013.
Has been conferred Doctorate of Laws, Honoris Causa, by Dr. Ram Manohar Lohiya National Law University, Lucknow, in November 2013.
He holds the following positions:
Member of General Body as well as Academic Council of National Judicial Academy.
Nominated as the member of the Committee on Restatement of Law by the Hon'ble Chief Justice of India.
Member Executive, International Law Association (India Branch).
Member of the Governing Council of Bangalore Law University.
Member of the Directorate of Legal Studies and Law Reforms Committee set up by Bar Council of India.